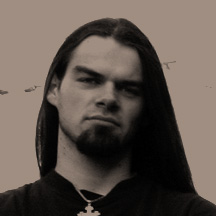 Martin Epp

drums
Member since the beginning '99


Hey, I'm Martin, the drummer of a.w.a.s.
My job at a.w.a.s. is to thrash the drumset,
but I also did some guitars and backup vocals on
our current release "hope".
On the other hand, I update this homepage for
you or spend time on lyrics- and songwriting.
thats it...


---
Favorite Bands:
Extol, Sacrificium, Opeth, Lengsel, Saviour Machine, Virgin Black, Nevermore, MyDarkestHate, Meshuggah, Dew-scented, nile, Dark-tranquillity, Rammstein...


---
Album charts:
Virgin Black - sombre romantic
Saviour Machine - legend
Extol - undeceived
Sacrificium - escaping the stupor
Mortification - scrolls of the megilloth
Opeth - deliverance
Nevermore - dead heart in a dead world
Nile - annihilation of the wicked
Meshuggah - destroy erase improve
---
Equipment:
Pearl drums: TT-12" TT-14" ST-16" BD-22" SD-14", Paiste cympals, 7A Nylon tip sticks, Tama double pedal


---
Favorite A.W.A.S. Song:
Wages of hypocrisy, Damned to death